BLACKCOMB-HO 5.1
High Output UV water treatment system
Looking for a comprehensive UV system in higher flow rates, consider LUMINOR's BLACKCOMB-HO 5.1 line of "Residential Crossover" UV water treatment systems.
The BLACKCOMB-HO 5.1 models can be installed in a large custom residence or a light commercial application such as a campground. BLACKCOMB-HO's 5.1 series controller is a universal input, constant current electronic power source housed in a splash-proof case and comes standard with a "future-proof" expandability port for future upgrades or options.
A colour user interface allows for easy visual identification of remaining lamp life and any error or fault codes. The system also incorporates QR codes to access lamp change information and videos via web access. Commercial grade axial flow 316L stainless steel, single-end reactors come with an integral port to allow for a future upgrade to a UV monitored system. If a monitor is not required, an integral visual glow plug is provided as an extra way to ensure that your UV lamp is illuminated. The single-end design allows for lamp change without the need to drain the reactor chamber. Low pressure, high-output (LP-HO) coated UV lamps offer a consistent output over their 10,000 hour rated life and come paired with LUMINOR's encrypted lamp key to protect against improper use.
Flow rates of 15, 38, 59, 95 & 150 lpm (5, 10, 15, 25 & 40 gpm), in both 120V or 230V applications (same ballast, different IEC power cord), are offered in the BLACKCOMB-HO 5.1 series of products. Also available in NSF Class B.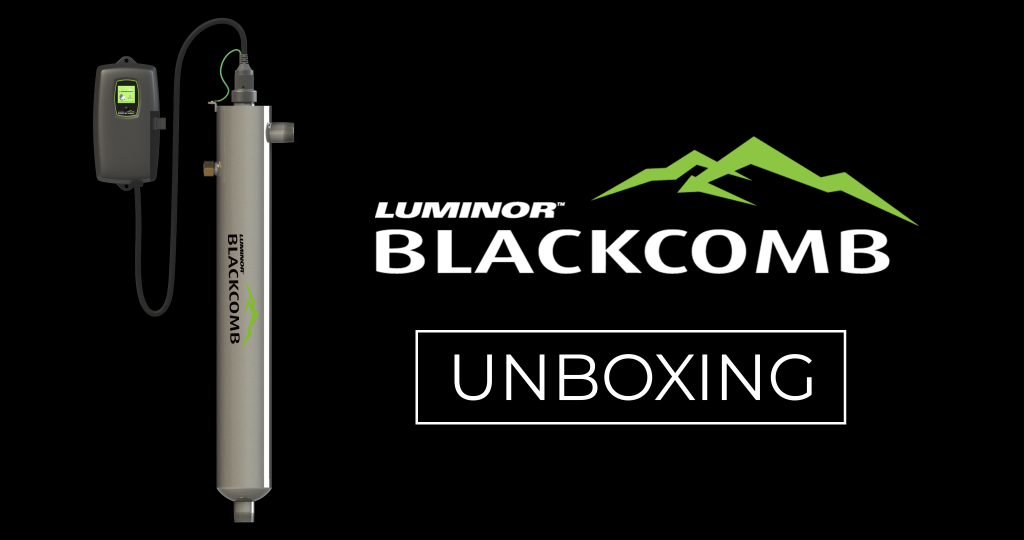 Optional Equipment Modules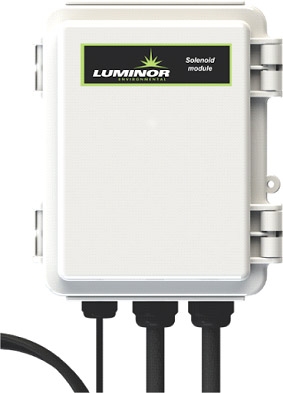 Solenoid Module (MOD-SOL1)
Allows for a solenoid connection on LUMINOR BLACKCOMB (5.1 and 6.1 only) products (will work on lamp failure only on LUMINOR 5.1 systems)
Customer simply needs to purchase a NORMALLY CLOSED line voltage solenoid valve and affix the module's supplied bare lead cord to the solenoid valve
Connect power cable to electrical outlet and the other lead to the "future-proof" expandability port on the controller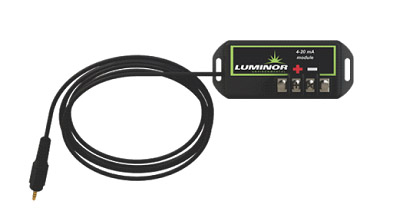 Allows for a 4-20mA connection on LUMINOR BLACKCOMB (5.1 and 6.1 only) products
This device will allow for a 4-20mA signal transfer of the UV output to a remote device such as a data logger or computer
Simply plug the supplied into the IEP expandability port on the UV sensor module (or daisy chain to any other module used in the system
No wire is supplied with this system, however 16-22 AWG is required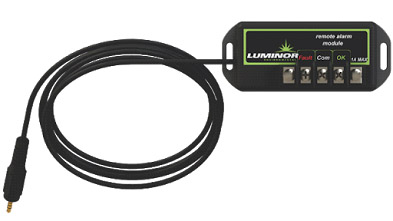 Remote Alarm (Dry Contacts) Module (MOD-RAM)
Allows for a remote connection on LUMINOR BLACKCOMB (5.1 and 6.1 only) products
Allows for the remote installation of alarms, lights, PLC input, data logger, flow control, etc.
Simply plug the supplied into the IEP expandability port on the UV sensor module (or daisy chain to any other module used in the system
Supplied with three screw terminals (NO, NC & common) to connect to the receiving end of the dry contacts
As the distance required is unknown, no wire is supplied with the system, however 16-22 AWG is required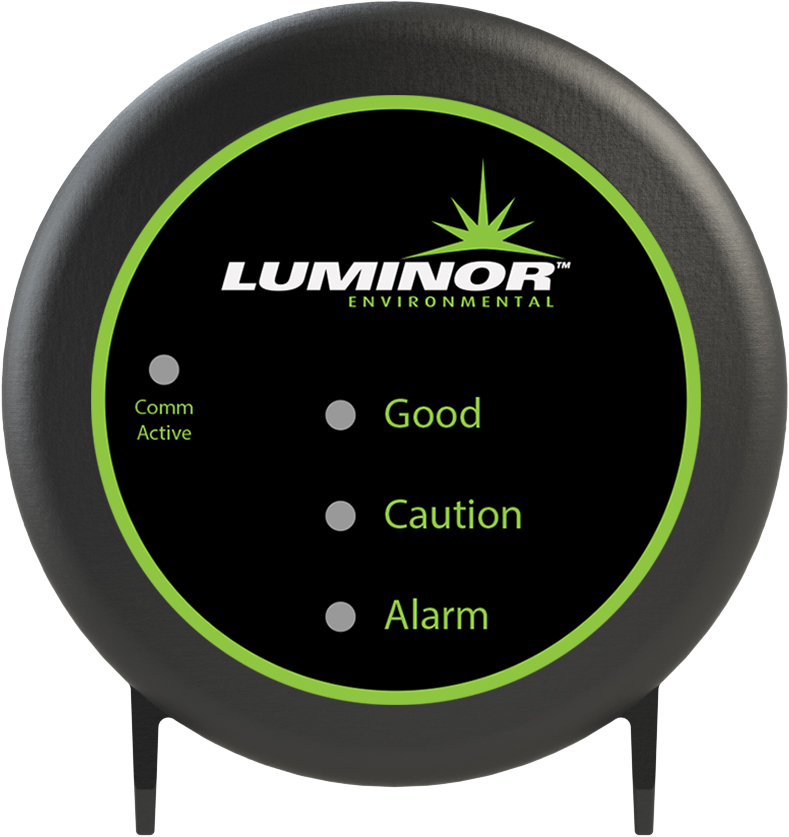 Wireless remote monitoring within the home….works on  all LUMINOR (both 5.1 and 6.1) products
Integral audible alarm and visual indicators for "GOOD", "CAUTION", and "ALARM" conditions
Hard wire option only (wall wart) (battery option to follow)
Supplied with both the receiver and transmitter which is connected to the IEP port of the controller as are other modules
Flexible mounting configurations
Can install up to 5 receivers per transmitter

This module helps organize all the modules connected to BLACKCOMB 5.1/6.1 systems. Up to 3 modules, including sensors, can plug into the MOD-SPLITTER at once. Managing modules becomes easier as they are all plugged into one, central location.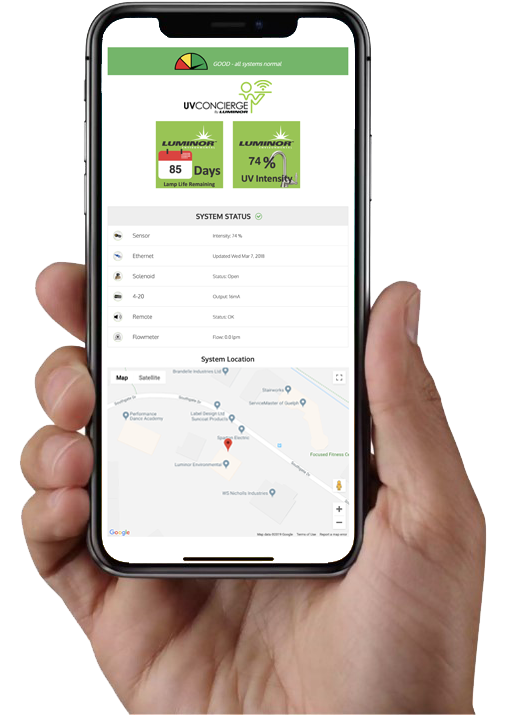 UV Concierge Module (MOD-APP)
Integrated WiFi solution for WEB, ANDROID, and iOS (Apple)
GUI interface matches current UV display for brand recognition
Easy set-up and login with integrated QR codes
Data logging capabilities (i.e. UV output over time)
Safe & protected, cloud-based data management
Monitor just one system, or ALL the systems that you may service
FCC compliance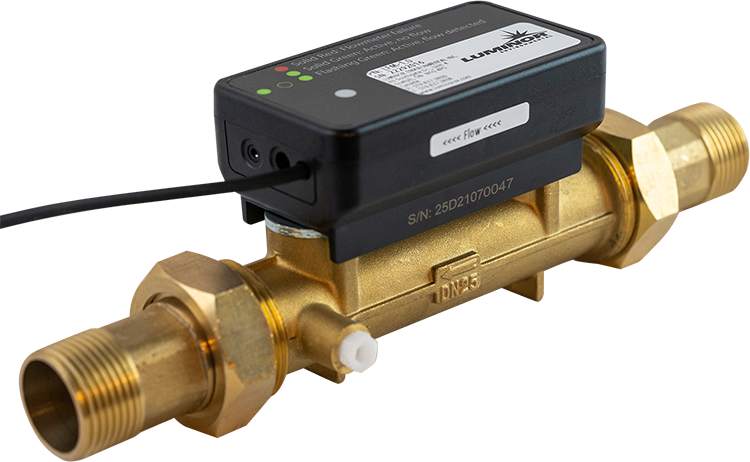 Ultrasonic Flow Meter Module
LUMINOR's ULTRASONIC FLOW METER provides accurate, real-time flow monitoring using a technology that provides failsafe operation. When the system senses "no-flow" or "low-flow" conditions, a signal is sent to the main controller and automatically reduces the power output to the UV lamp, thereby reducing the overall power consumption. Benefits include energy savings, reduced quartz sleeve fouling and cooler operating temperatures.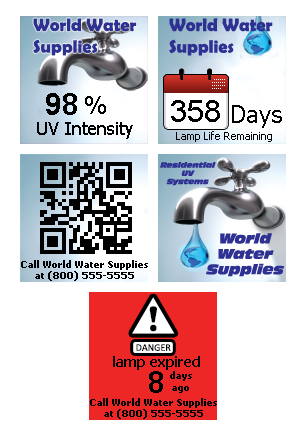 Dealer Programming Module
As a dealer or distributor of UV systems, you realize the importance of making sure that your customers replace their UV lamps on a regular basis. Other systems come with lamp change reminders, but they do not ensure the repeat business comes back to you! LUMINOR's BLACKCOMB line of UV systems come with the industry's first Dealer Programming Module. This module allows you to customize the controller's display in the field!
Engineered Solutions Canada
Contact us Today!
Feel free to request a quote or visit our contact page to give us a call.
Engineered Solutions Canada
Our

Manufacturers
We are the leading provider of some of the industries best components and technology!